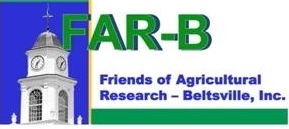 Home Become Member Renew Membership Officers & Directors CFC Giving Donations & Bequests FAR-B News Sponsored Events Links Congessional Testimony


Friends of Agricultural Research – Beltsville, Inc. (FAR-B) is a nonprofit organization created to support research, educational, and outreach activities at the Henry A. Wallace Beltsville Agricultural Research Center in Beltsville, Maryland. The facility is the centerpiece of the Agricultural Research Service (ARS) — the primary research arm of the U.S. Department of Agriculture (USDA) — and has an outstanding international reputation for cutting-edge research in many areas of food and agriculture. The location contains the Beltsville Agricultural Research Center (BARC) and the Beltsville Human Nutrition Research Center ( BHNRC), part of ARS's Northeast Area (NEA).


FAR-B GOALS
Disseminate information regarding unique expertise of Beltsville scientists and their research accomplishments that benefit society.

Organize, sponsor, and finance major symposia, field days, and scientific seminars.

Generate funds to support student internships, scientific travel, and upgrade research equipment.

Present information and expert testimony to the U.S. Congress and others to enhance funding for the Research Center.

Present to local students educational programs that focus on outstanding research conducted at Beltsville.


Updated March 21, 2023