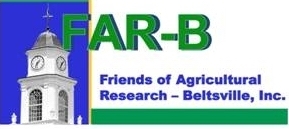 Home Become Member Renew Membership Officers & Directors CFC Giving
Donations and Bequests FAR-B News Sponsored Events Links Congressional Testimony

Each year FAR-B presents expert testimony to the U.S. Congress and others for the purpose of obtaining enhanced funding for research at the Beltsville Agricultural Research Center. Jim Butcher has prepared FAR-B's testimony each year in consultation with other members of the Board of Directors and submitted the written document to both the U. S. House and Senate Subcommittees on Agriculture, Rural Development, Food and Drug Administration, and Related Agencies Committee on Appropriations in March or April of each year. This testimony will be published in the Congressional Record, and a copy of the testimony subitted to the U. S. House of Representatives for Fiscal Year (FY) -2011 and to the Senate for FY- 2011 is available below for your examination.
FY-2017 Senate Testimony

FY-2016 Senate Testimony

FY-2014 Senate Testimony

FY-2013 Senate Testimony

FY-2012 Senate Testimony
FY-2017 Congressional Testimony

FY-2016 Congressional Testimony

FY-2014 Congressional Testimony

FY-2013 Congressional Testimony

FY-2011 Congressional Testimony